With winter approaching us, it's important to think about how we can keep warm, while at the same time keeping the electricity bills down. These days, there are a myriad of options available. You've got electric heaters, oil heaters, air conditioning, fireplaces and more. Trying to understand what the best option is – both environmentally and financially – is often the hardest part.
James and Steve, from the AC STORE'S at Deception Bay, North Lakes and Maroochydore are of the opinion that the most efficient, cost effective and comfortable way to warm your house this winter is with reverse cycle air conditioning. "Most people don't know that air conditioners actually operate better as heaters than they do as coolers. And often the running costs by comparison are the cheapest."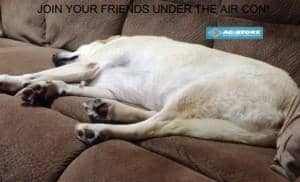 A quality reverse cycle air conditioner warming a typical bedroom would cost approximately 22 cents per hour, at a temperature setting of 24 degrees. Compare this to a portable heater of a well known brand, costing approximately 72 cents per hour on a medium setting. Over the winter months, this could add upwards of $200 to your electricity bill!
"The other bonus with air conditioners is you can also get it to use during summer, whereas a fireplace for example is only of use to you for several months. Not only that, an air conditioner can add value to your home, especially when you go to sell. Really, it's a win – win situation."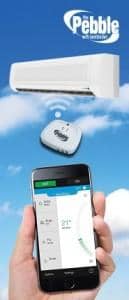 Pebbleair is Now Available from AC STORE, where you can control you air conditioner from your smart phone. Imagine leaving work late, and being able to turn your air conditioner on at home so that the house is warm when you arrive….
AC STORE can supply you with the air conditioner and install it, or just install a unit already purchased elsewhere. Packages start from $999* for a unit supplied and fully installed. Payment plans are even available. If you would like to know more, call the AC STORE on 07 3204 1400 or visit the store on Lipscome Road Deception Bay